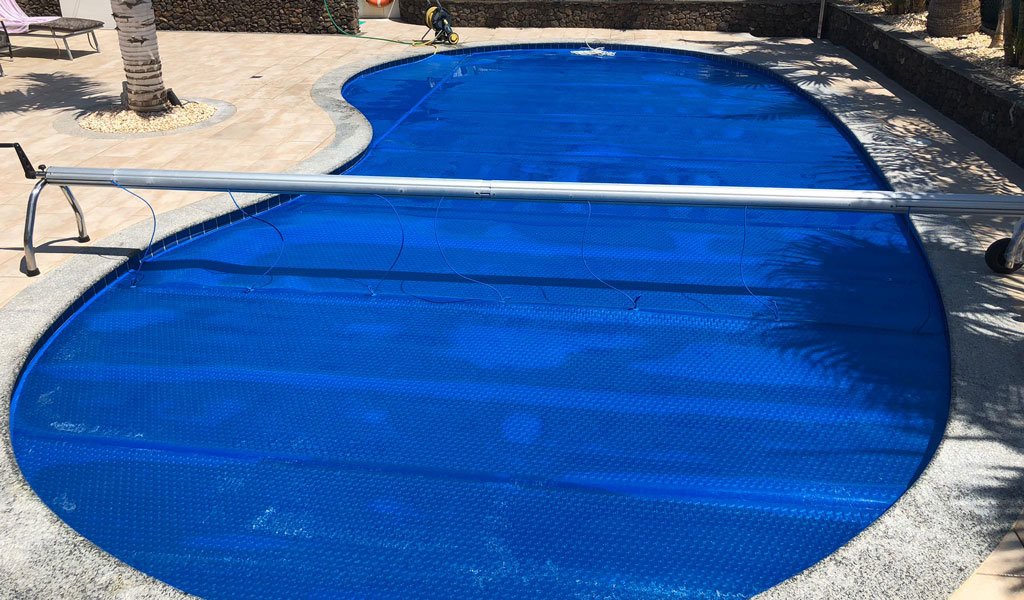 Solar Blankets are made from a film of thousands of tiny bubbles, which work together to collect and retain heat in your pool. The Solar Blanket floats on top of the water and allows the suns energy to pass through. The blanket then traps the energy as retained heat in the pool. The material is also ideal for use as thermal blankets for heated pools.
Solar Blankets are designed to retain heat. Solar energy (short wavelength) easily passes through the blanket. The heat is retained in the water, which radiates at longer wavelengths. It is restricted from readily dissipating into the atmosphere due to the special design of the blanket).
They will increase pool water temperature by 10 to 15 degrees and will reduce heating costs up to 75%. Pool water stays warmer longer, therefore extending the swimming season. Most heat loss in a pool is caused by evaporation. A solar blanket will trap the heat in and reduce evaporation by around 95% and will save up to 50% on pool chemical usage while the pool is covered. The blanket also acts as a barrier to prevent leaves and debris from entering the pool, thereby reducing maintenance time.
We've got you covered, clean and at the right temperature!
Australia is well known for being one of the harshest places on Earth when it comes to exposure to UV radiation from the sun. Our unique Australian pool cover material is specificaly designed to withstand the intense levels of sunlight and associated UV levels experienced down under, which means you can be sure it's up to the job of protecting and heating your pool here in Lanzarote.
Soltex offer the most comprehensive range of pool covers available anywhere in the Canaries. Pool covers are essential to help keep your pool warm, clean and safe. Exclusively manufactured in Australia for Soltex, our patented material has been produced especially for the canary islands and is exclusively avialable from Soltex, Aquadreams and Freedom Pools. The material has the highest uv and chlorine protection in the world. Our covers out perform any other cover ever produced, and that's a guarantee!
Check out the Elite website for all the latest information.
Up to 10ºc warmer

Virtually eliminates evaporation

Saves up to 10,000 litres of water per month

Saves chemicals

Out performs every other cover available today!
Deep blue colour is darker than other covers and absorbs more of the suns energy. The pool water will heat 10% better than any other blanket

Top layer has our secret additive process for an 85% uv protection which has 100% more protection from the sun than any other cover in the world

In our manufacturing process we add a chlorine inhibitor to the bottom layer which is 25% thicker and has more resistance to chlorine attack

Super size bubbles mean more heat retention and a 13% solar gain compared to a 7% gain on other similar looking covers

Flat bottom bubble with a larger surface area means the solar blankets are more likely to stay on the pool in high winds and automatic pools cleaners work more efficiently under Aquadreams uv blankets